Truck Racing Action Heats Up at Snetterton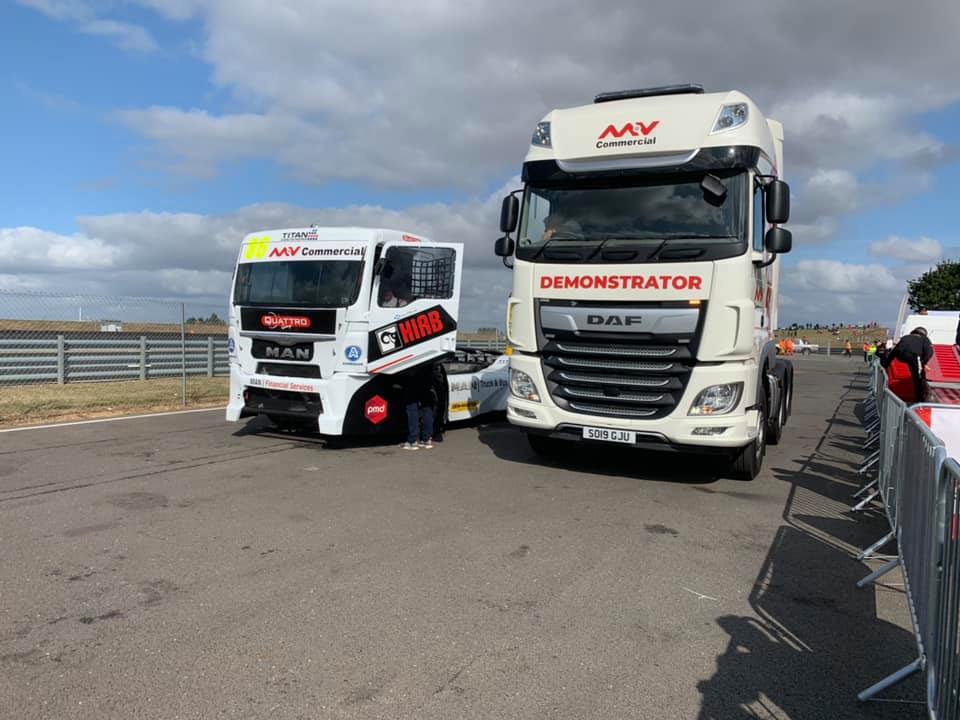 Despite a cold and windy start to the weekend, the 6th round of the MV Commercial British Truck Racing Association Championship 2019 thrilled thousands of fans with heart stopping action at Snetterton Race Circuit and sees the competition for the season trophy heating up.
This was the second UK race where MV's very own #86 Tom O'Rourke put truck to track. Tom put out a great qualifying session resulting in fifth, with a best lap time of 2:30:185. This was converted into a solid sixth in the opening race on Saturday, improving on his lap time with a race best of 2:28.122, followed by a repeat performance in the second division one race on Sunday. Unfortunately, an encounter with another truck in the first lap pushed Tom back to seventh in the penultimate race on Sunday. An action filled final race on Sunday saw Smith and Forsstrom both come off and a red flag leading to a restart of the race and Tom finishing tenth out of 14 original starters. After the weekend of racing Tom took home enough points to climb to 8th out of 15 on the Division One leader board.
In the rest of Division One, Dave Jenkins made a stunning return to the top step twice over the weekend and missed out on the hat trick partly due to the chaos that followed the restart of the final mixed race of the weekend. Despite Jenkins taking pole position in the qualifying rounds, Smith opened the weekend with a stunning salvo as he slipped passed Jenkins to take the opening race with a solid five second lead, with John Newell cruising easily into third.
Jenkins, after repairing a niggling gearbox, turned the tables on Smith in the second Division One race, finishing just ahead of his rival. Smith ate through Jenkin's two second lead in the final lap to finish 0.355 seconds behind him in a nail-biting finish for the #69. Coming in at 14 seconds off of the race winner, Richard Collet happily took the third step. The penultimate Division One race produced almost exactly the same results with Smith finishing 0.359 seconds behind Jenkins with John Newall returning to the podium in third 16 seconds behind the Jenkins.
Division Two saw Paul Rivett take pole position in qualifying with a best lap of 2:31.366, followed closely by Steven Powell and scoreboard leader Luke Garrett. Despite maintaining the fastest lap time during the opening race for Division Two, Rivett was unable to hold on to first, finishing third behind John Bowler, with Steven Powell finishing first. The second Division Two race on the Saturday saw Rivett repeat his performance with fastest lap but once again only finished third with John Bowler repeating his second place. Luke Garrett made his first podium appearance with a nine second lead on Bowler. In the first Division Two race of the Sunday, Rivett finally saw first after a 4.1 second penalty was applied to John Bowler, with Erik Forsstrom taking third.
The last race of the weekend was a mixed Division One and Two race, with Division One trucks starting from the back. Unfortunately, both Smith and Forsstrom suffered mechanical issues and had to be recovered from the race, resulting in a red flag and a restart with 3 laps to go. This allowed Garrett and Bowler to repeat their first and second pairing from Saturday with Rivett making his third return to third place for the weekend. Amidst the Division One trucks, Richard Collett took his first win of the season, with Jenkins just behind him and Ray Coleman taking third.
At the end of the weekend's racing, the Division One point gap between Smith's 336 and Jenkins 322 points has tightened to 14 points, with Taylor 73 points away at third, and in Division Two Garrett maintains his 72 point lead over Bowler and Smith who are tied in second with 245 points.
The action continues next month with a return to Pembrey on the 5th and 6th of October.